Assignment Solution for Wearable Devices
Introduction
Apple is stated as most prominent brands that have sold millions of smartwatches as these wearable devices focus on elements of simplicity, creativity and human usability. These Apple watches are designed to meet customer needs with appealing functionality that adds value with sleek design, impression and capability to offer seamless work purpose. In this report, market position of Apple watches is detailed along with their competitor analysis. Further, factors that influence consumers to buy these watches have been explained along with discussion on Segmentation, targeting and positioning approaches used currently by Apple watch. Lastly some recommendation is given for new positioning approach that can be considered to reach to target segments.
Discussion
Market position and competitive analysis of Apple Watch
Apple watches have remained world's most preferred smartwatch brands and had around 48 % market share in 2019, however Samsung Gear was at distant second with about 13 % share in market as of 2019. Also smartwatch shipment increased worldwide in impressive manner with 42% annual rise to reach at 14 mn units sold in 3rd quarter of 2019. Apple shipped around 6.8 mn smartwatches globally in Q3 2019 extending beyond average 51% from 4.5 mn during previous year Q3 2018. Whereas Samsung shipped around 1.9 mn smartwatches in Q3 2019 which was twice from 1.1 mn in 2018 (Hoppner, Westerhoff and Weber, 2019). Also Apple watches have continued to offer tough competition to Samsung and others as Apple watches owns around half of global smartwatch market and has been a clear industry leader. Apple watches offers ideal ecosystem for its wearable devices which drove its success in market and they provide a popular brand, user friendly device with lots of app options and extensive retail presence globally. Apple watches have remained a one step ahead device for almost all competitors in hardware, software and services. Also Apple watches offers wide colour option, better interface and application ecosystem than others (Hernández, 2019). Further one of the rival brand, Pebble steel sold around 400,000 smartwatches and in 2015 sold more than 1 mn units. They began strongly and were first smartwatch brands that appealed lots of users besides being reasonably priced with nice features. However Pebble could not create innovation for long to compete with larger brands like Apple, Samsung etc and in 2016, they no longer stood out (Mao, et al. 2019).
Wearable devices are typically the newest smart gadgets trends in technology currently and these range a wider assortment of products beginning from Bluetooth headsets, calculator watches to more current health bands like Fitbit and UP by Jawbone. The wearable device technology has become one of the biggest trends and have influenced mostly the population with big element of technological impact. One of such similar emerging trendy products is smartwatch and this industry is even turning largely more saturated with several of brand jumping into the bandwagon. Though several smartwatches have really interesting and beneficial attributes, but no specific manufacturer has yet attained all in one smartwatch technology correctly yet (Ezrachi and HSE Robertson, 2019). The product that is discussed in this analysis is Apple watch which has hit the market of wearable devices after a long wait for anything in its history and alike almost any product in Apple's extensive product lineage, the Apple watch has entered into retail space with some intense competition. The Apple watch has been facing neck to neck competition with similar smartwatches and wearable devices in the market. The key competitors of Apple watch are Samsung Galaxy Gear and Pebble Steel.
Apple Watch
Multiple size: Apple targeted their smartwatches with multiple variant in sizes realising the fact that wrist of female customers are not having similar size as males, so Apple brought out multiple sizes in their Smartwatch to relevantly reach to wider target of consumers. Apple offers 38mm and 42 mm sizes to fit to distinct-sized wrists.
Health connectivity: unalike other smartwatch brands, the Apple Watch is capable of gathering data such as heart rate of users to compute the intensity of workout done by their users as well as Apple watches are enabled to trace the amount of time users spend standing, moving or exercising through their in-built accelerometer (Thomson, et al. 2019). Apple watches also utilise GPS in their iPhone to trace where the users have gone for jogging or riding through using a smart Runkeeper technology in-built in Apple' watches that can track and add common routes function into their watches.
A sensible vibration: unlike other smartwatches such as Pebble that even has louder vibrator motors, Apple watches offer context-aware vibration for distinct kind of notifications. These features are not present in similar product of rivals, but Apple Watches have built these features and emphasise that such context-vibrations offers users with taptic feedback which are typically unnoticed by others around but can be useful in several ways for the users as they notify them with distinct things and notification sensors. For example, if a user utilises maps through their Apple watch then there arises a vibration when the user gets to the place that is searched for and user gets feedback to notify direction and thus through Apple watch users do not have to search for map while walking or biking (Paluch and Tuzovic, 2019). The Apple watches with their ideal vibration patterns has specific notification for each alerts and events that does not bothers others around.
Customised and colourful bands: Apple watches offers numerous customised options for users and there are three offerings of watch dependent on needs. A standard Apple watch which utilises sapphire glass for screen and stainless body with wide colour choices. Then Apple watch Sport that uses aluminium and has space grey and silver colour choices. Lastly Apple Watch Edition which comes in 18K gold with colour choices of gold and rose gold. Also there are 34 band choices for all that can be interchanged and thus by far Apple watches offers most customisable and trendy smartwatches than their rivals.
Tap Vs Press: Apple watches comes with flexible sapphire display that permits screen tell the distinctiveness between instant tap and full on press, whereas, a tap on play feature tells user about play or pause music. Also by pressing play button a bit hard brings in context aware choices such as AirPlay or shuffle and repeat toggles and thus adds brilliant smart device interactions as against their rivals products (Yeo, et al. 2016).
Third-part support: the largest element of Apple watch that differentiates from rest products of rivals is that their watches can offer developer support which is a hit like support for iOS. Twitter and Facebook currently support with Apple watches while rivals products like Samsung Gear watches do not offer third party support and nor do other android watches. However Pebble offers a good third party support but considering their limited functionality, Apple watches wins in smartwatch category by being a fitting piece altogether.
Samsung Galaxy Gear
Samsung Gear currently has around 6 models and they attempt to reach to every niche market and it seems that nobody's needs are actually met as Samsung brings in new models too often. The first model of Samsung Gear had camera, speakers, microphone which was more of hardware overload and this made their watches more buggy and there were attributes that were not done properly like Google Non-voice instructions that generated a step backward from Samsung's S Voice as this was compatible with only Galaxy Note 3. Even with updates Samsung's S Voice feature worked compatibly with only three other Samsung phones and were not compatible with other series. In Samsung's new releases Gear 2, Gear Fit and Gear Neo there were no exciting feature such as Gear 2 was very close to Gear One with only new difference that it featured Samsung's new OS which made it even buggier than android. Also Gear Neo was simplified version of Gear 2 and Gear Fit was more like a Nike Fuel Band with screen. In their next models, Samsung worked on Google and implemented android wear into their Gear live which was nothing separate from other android wear watches in the market. But unlike Apple watches the Samsung Gear range is not widely customisable and have dock attachable chargeable system, whereas Apple watch has around 20 custom options and zirconia charging systems (Chuah, et al. 2016). Also Apple watches have force sensing surface and taptic engines which are unavailable in Gear range. Also Samsung Gear does not have say with feeling (heartbeat) feature like Apple watches and supports only round 1500 apps while Apple watches support over 3000 apps.
Pebble smartwatch
Pebble is second most successful kickstarter yet and it is a piece with an e-paper display that does functions like any other watch and tells time and permits to choose watch faces from Pebble marketplace or users can generate their own for use. Also Pebble uses open-sourced OS and their notification feature is well done. However Pebble's notification features has small issues like the watch tries to display all kind of text from anything like ads to emails and does not alerts users when it is worthy to pull out phone or leave alerts for later. Contrastingly Apple watches have unique notification sense which makes it clear to users when to see the alerts or leave. Other features of Pebble are it comes with waterproof, vibration alarm clock, music control and Runkeeper companion app. Also Pebble does not have voice input and internal speakers and there is poor interactivity between Pebble and iPhone or Android phone, thus making Pebble primarily a basic level displaying information smartwatch. However, Pebble has 130 mAH battery life, while Apple watches battery life is 205mAH which lives up to promise of only night charging, thus Apple is clear winner and longest lasting battery life watch in market (Hsiao and Chen, 2018).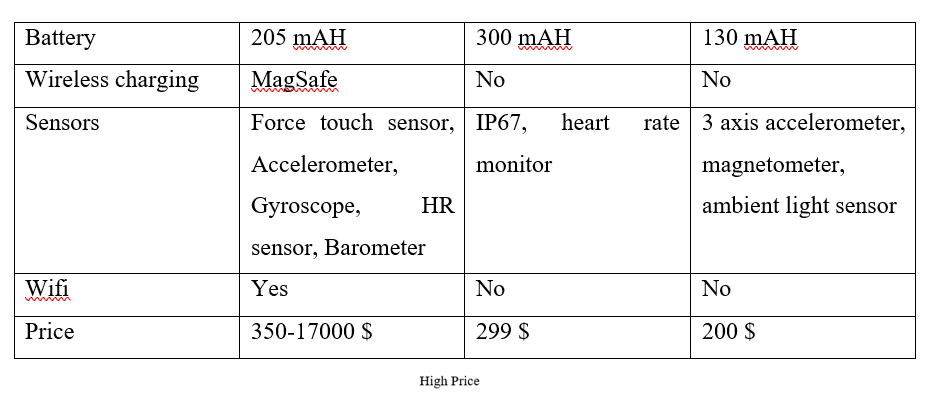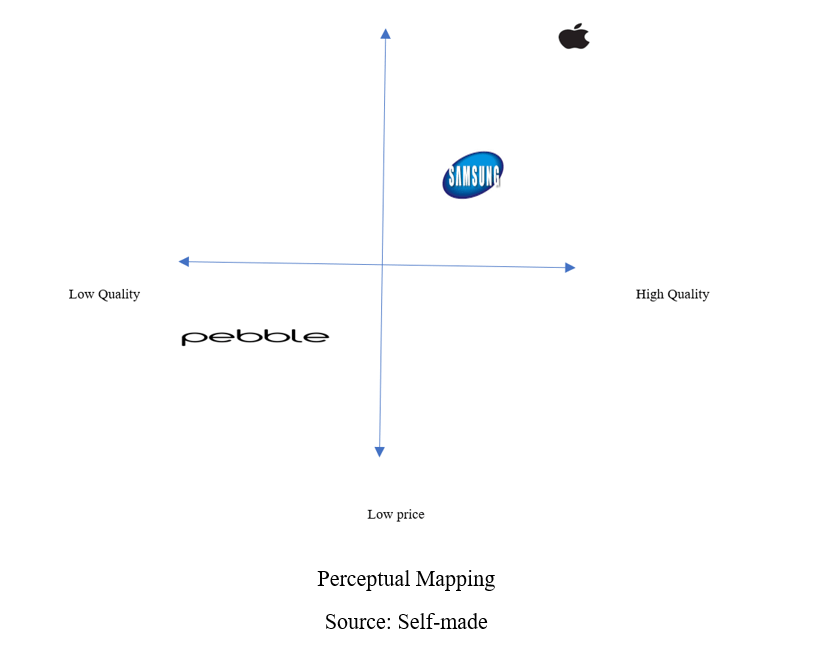 Consumer purchase decision
Consumer decisions for buying a product is affected by different elements like internal or personal influences that involves perceptions, attitude, motivation, lifestyle and learning. Also these buying decisions are influenced by external factors or social influences that involves cultures, social norms, household structure, family roles, group references etc. Internal influences are typically consumers own lifestyle and manner of thinking and these impact their thoughts, self-conceptions, feelings, motivation and memory as well as psychological influences.
Based on these concepts, the internal factor that influences buying decision for Apple watches is motivation as these watches are simple and convenient which dominates the choices for their users. As Apple watches offer range of functionalities beyond traditional time piece so consumers mostly who are tech savvy are motivated to buy them as they enjoy both function, luxury and convenience. Example, Apple watches have sensible notification alerts for different things which enables users take short typical actions based on usefulness of alerts. Like Apple watches notification features fairly allow business travellers to interpret alerts even during transit and they can learn about status updates differently for each activity ranging right from arrival of cabs, update of air/rail ticket, contactless Apple pays at café's, paperless TSA check-in and boarding pass, turn by turn route direction, automatic check-in and unlocking of hotel rooms without need to hold on to a separate device (Dehghani, 2018). These all elements largely motivate business traveller consumers to pay for Apple watches.
Further the external factor that influences buying decisions of consumers of Apple watch is social class which can be referred to as group of individuals who share equal status in society and is characterised by dimensions such as income, education etc. The consumers of Apple watch enjoy strong social status and disposable income and are typically well-educated groups as they have sound knowledge of technology and functions. Mostly consumers of Apple watch are business class, students or professionals working in MNC's or senior executives.
Segmentation and Consumer Profile
Segmentation of Apple watches
Segmentation is a marketing concept that permits enterprises to categorise their customers into groups and segregate them based on particular attributes and in reality this concept has been applied since 1920's when mass producers required to provide a more comprehensive product assortment that could fit into wider groups of people. Market segmentation is done to differentiate the offerings for customers which would else remain undistinctive to fit into the customer needs based on their preferences. Typically market segmentation is mainly of kinds such as demographic, geographic, behavioural and psychographic. Demographic segmentation classifies customers into groups based on attributes like age, gender, relationship status, workplace etc. Geographic segmentation is based on reaching customers within different regions like nation, state, city and neighbourhood. Behavioural segmentation is based on benefits looked after by customers like occasion, usage, loyalty etc. Psychographic segmentation is based interest, activities and opinions of customers.
Based on these concepts it can be stated clearly that Apple watches mainly focus on young segment of customer groups within age range 16-40 years who are avid technology users, health conscious, seek for elegance, beauty and functionality. Also Apple watches target middle to high income consumer segments and have priced their watches within range from $ 499-17000 (Kabade and Beria, 2019).
Presently Apple offers three kind of smartwatches: (Dehghani, Kim and Dangelico, 2018).
Apple Watch Sport: this is targeted to male and female customer segments with over 25 years age, having household income between $26-61K, having an active lifestyle and those who seek for functionality over value and are avid tech savvy as well as very sophisticated consumers. Also this segment of customers often does good product research before making their decision for buying and are typically low in brand loyalty.
Apple Watch: this Apple watch comes with stainless steel case and space black and has display safeguarded by sapphire crystal. These watches are targeted to male and female customer segments typically within age group of more than 25 years, household income between $ 62-99K. Also this segment of customers have good disposable earnings which permits them to enjoy finest products but they still value functionality over ultra-luxury and prefer using watch for their work-related purposes and enjoy smartwatches which has wider custom options. This segment of customers have moderate brand loyalty.
Apple Watch Edition: these are smartwatches crafted out of 18K gold and are developed to be twice as sturdy as standard gold and the screen of these watches are secured with polished sapphire crystal and are exquisitely designed. These watches typically target males and females segments with age over 35 years, having household income over $100 K and are generally technology savvy professionals who prefer blending tech with ultra-luxury. This segment of customers mainly use watch for work and prefer hands-free features.
Customer Profile of Apple Watches
The consumers of Apple watch are widely speaking any regular watch user and are typically driven with attributes of Apple products and specifically stimulated with innovation and heavy technology, so consumers of Apple Watch are typically heavy technology users and early adopter. Further by considering special features of Apple watch and its pricing it is clearly identified that Apple watches target customer profile is that of a well-informed, brand driven and a passionate technology user with a medium, medium-high or high-income levels. The consumers of Apple watch can be identified as appreciators of innovation and for whom technology devices do not mean simply functional value but rather they look for beautiful, elegant and trendy products, and Apple watches serves all these needs of their consumers. Also the consumers of Apple watches are well aware of the brand and its value and are probably not those people who have bought Apple products for first time. They are mostly Apple fans and amongst the most loyal consumer groups. Besides fitness and sport users throughout all segments are typically and enormously benefitted consumers of Apple watches as this is a great product in smartwatch category due to its tracking abilities offered in range (Chuah et al. 2016). Further upper categories of Apple watch like Apple Watch Edition which comes with 18 K gold case target consumers who have no budget limitations and who enjoy luxury watches, specifically those produced in precious metals, and this category of Apple watch consumers are open to move away from conventional luxury watches that dominate this segment and are interested to make first foray into new smartwatch ranges. Also any iPhone user is considerably a potential consumer of Apple watches as it functions seamlessly with iPhones and also permits the phone to be accessed without taking it out of pocket.
Targeting and Positioning
Targeting
Once a marketer classifies distinct segments in their market, they establish different marketing approaches and promotional initiatives according to preference of customer groups within a specific segment and targeting is done to reach products or services to segmented audiences to meet and fit into specific needs. Whereas, once a target market is decided, the marketer attempts to build an image of their offerings into their customer minds and positions them appropriately through positioning to appeal and attract the targeted market segments or customers so as to catch their interest into the offering and build value with first impression. Thus positioning build perception of products into the mind of customers.
Based on targeting concept of typical customer profile for Apple watches it has been evident that these watches are targeted to technology savvy, fitness conscious and stylish customers specifically those who already have atleast one Apple product earlier at home. Apple watches are designed to work in co-existence with iPhones. Currently Apple watches are targeted only in 16 selected nations where buying power and size of measurable scale is high. The price for Apple watches are usual to other product lines targeted at premium level to appeal the same category of consumers that have been always focused upon (Kahn, 2018). Also Apple watches is focused heavily on existing users of iPhone particularly iPhone 6 series as Apple watches are mainly compatible with these. Also Apple watches are targeted to large extent to health and fitness conscience consumers and those people who seek for fashion status symbol watches.
Positioning
Apple watches are positioned as uber smart watches which are fairly innovative, elegant time piece with appealing fucntions that can suit to working profesional needs. Apple watches are positioned in mind of customers with extent of simplicity of use and accesiblity to wider range of apps, custom design options, seamless integration with Apple products which places it in premium segment due to relevant differnece in pricing range between Apple watches and other rival products (Kahn, 2018). Curently Apple watches are positioned as premium products with point of uniqueness due to wider personalisation options almost 20 different cutom chains, digital crown, force sensing surface which enables these Apple watches sense distinctiveness between tap and press. Another focus on difference of Apple watches is taptic engine and stay with feel or heartbeat sensors and wider app support almost over 3000 apps.
Recommendation for new positioning
Apple watches can consider new positioning based on emotional value offered due to benefits from these watches which may not be quantifiable but can make these watches suffiencintly appealing. To add meaning to emotional value, Apple watches can consider for example positioning these watches to business travellers or simply to regular office goers through public transport that can add lot of meaning by lessing hassle during travel and by offering relief from several day to day anxieties. Also Apple watches can be positioned on emotional value for parents of young kids or teenagers or for caregivers to elders which can be placed to add meaningful freedom from certain health worries that come with attending to needs of loved one's which can be solved from Apple watches (Krey, et al. 2019). For individuals even, these Apple watches can be positioned on emotional value as these great products will mean allowing users to have larger control over data that concerns their fitness, helping them empower, bring in hope and encourage to maintain better lifestyle and preferences. Similarly, for medical profesionnals, these Apple watches can be emotionally positioned through adding larger meaning of connecting with their patients and be empathetic to them, specifically during time when face time with doctors may get more constrained by insurance reimbursements. Likewise, for disabled people, with permanent or temporary disability, the assitance offered through Apple watches can be used to position emotional value through adding meaning of simply less stress in their regular lives, mind etc.
Based on the discussion it can be concluded that Apple watches are popular in smartwatch category as these products offers seamless user experience, functionality and adds value by meeting different work purposes as well as are capable enough to give users an all round single interface experience due to better compatibility with other devices. However till date these are mostly positioned as premium category and serves as status symbol which can be re-positioned differently through exploring emotional value of consumers. As these watches offer multiple uses for different purposes and are high in functionality so they can serve different needs apart from acting simply as a device for health conscious or tech savvy. By positioning Apple watches differently, they can serve needs for extended group of consumers and can add value to wider community of users.
References
Chuah, S. H. W., Rauschnabel, P. A., Krey, N., Nguyen, B., Ramayah, T., and Lade, S. (2016). Wearable technologies: The role of usefulness and visibility in smartwatch adoption. Computers in Human Behavior, 65, 276-284.
Ezrachi, A., and HSE Robertson, V. (2019). Competition, Market Power and Third-Party Tracking. World Competition, 42(1), 5-19.
Hernández, G. J. L. (2019). Wearable Technology: Shaping Market Opportunities Through Innovation, Learning, and Networking. In Reverse Entrepreneurship in Latin America (pp. 29-44). Palgrave Pivot, Cham.
Hoppner, T., Westerhoff, P., and Weber, J. (2019). Taking a Bite at the Apple: Ensuring a Level-Playing-Field for Competition on App Stores. Available at SSRN 3394773.
Hsiao, K. L., and Chen, C. C. (2018). What drives smartwatch purchase intention? Perspectives from hardware, software, design, and value. Telematics and Informatics, 35(1), 103-113.
Kahn, K. B. (2018). Understanding innovation. Business Horizons, 61(3), 453-460.
Krey, N., Chuah, S. H. W., Ramayah, T., and Rauschnabel, P. A. (2019). How functional and emotional ads drive smartwatch adoption: The moderating role of consumer innovativeness and extraversion. Internet Research.
Mao, M., Ji, L., Xu, W., and Liang, Y. (2019). Design and Development of A Sitting Position Monitoring Tool Based on Wearable Devices. In Society for Information Technology & Teacher Education International Conference (pp. 1074-1079). Association for the Advancement of Computing in Education (AACE).
Paluch, S., and Tuzovic, S. (2019). Persuaded self-tracking with wearable technology: carrot or stick?. Journal of Services Marketing.
Thomson, E. A., Nuss, K., Comstock, A., Reinwald, S., Blake, S., Pimentel, R. E., … and Li, K. (2019). Heart rate measures from the Apple Watch, Fitbit Charge HR 2, and electrocardiogram across different exercise intensities. Journal of sports sciences, 37(12), 1411-1419.
Yeo, H. S., Lee, J., Bianchi, A., and Quigley, A. (2016). WatchMI: applications of watch movement input on unmodified smartwatches. In Proceedings of the 18th International Conference on Human-Computer Interaction with Mobile Devices and Services Adjunct (pp. 594-598). ACM.